Prayers for Edwin & Family
Update 9-26-2018**
As of today Edwin is still in the hospital and has one working limb. We were hoping he would get released to a facility that could help him get movement back in his broken limbs, unfortunately he does not qualify to go to those places because they need you to have at least 2 working limbs. So, his options are a nursing home facility or home. He wants to go home. Lindsay has been getting the house ready for him to be able to come home. A social worker has to ok it. He is going to need to get some medical equipment to make this possible. Once he is home I am going to be creating a meal train to help Lindsay out during this chaotic time.
I'm creating this page on the behalf of Lindsay Love, to ask for prayers and financial help for my brother Edwin, his fiancee Lindsay and their children. Early Thursday morning Edwin had a car accident, where he attained multiple substantial injuries that will prevent him from working for awhile and will require an extensive amount of medical care. Edwin just started a new job last Monday, September 10, and did not have any medical insurance or any kind of disability insurances to help with financial responsibilities. At first he was trying to refuse medical care because he was very concerned about the bills and money. So I'm reaching out and asking for other's help.
Edwin's truck went off the road on a curve on county road 50 then he hit the ditch and it rolled, it came to a stop by hitting 2 trees and a power line pole. The Avon fire department had to extract him from his vehicle and sent him by ambulance to the St. Cloud hospital.
When the E.R. was able to check him over they learned he had a concussion, and a broken shoulder. Later, once he was admitted the Drs. did more x-rays and scans learning both his knees were broken as well as his finger. He had to have reconstructive surgery on his shoulder and both knees. Leaving him no mobility in those limbs for a few months with a long road to recovery. We are hoping to get him in a rehab facility once released from the hospital so he can get the care he needs. Lindsay needs to work to try to pay bills and has missed several days of work already. His right arm still has mobility but limited. He also has some lung punctures and has glass in his ear, that will require a specialist to remove. These injuries also make it impossible for him to help with the kids.
He is coherent and is able to communicate with us and has his sense of humor. We want to continue to encourage him to stay strong and recover. Edwin is an avid hunter, as well as an outdoors man and very active person. He always is trying to bring his nephews and Lindsay's son, Bryson out hunting and fishing. He has a huge heart and likes to help others out . I believe this will be hard for him to turn the table around and ask others to help him. So, I'm doing it for them.
Lindsay is very worried about covering the cost of their mortgages, utilities, medical bills and the cost of gas as well as all the other expenses of life. A few things that will help their family during this time of need is; prayers, gift cards for restaurants, gas cards and of course donations to help with the bills . Honestly, anything will help during this time in their lives. Please pray for strength for Lindsay and Edwin through this rough period. As well as quick healing and miraculous motivation to get movement for his legs and arm. Lindsay has been by Edwin's side pretty much the whole time. Thank you for taking the time to read this it is very much appreciated.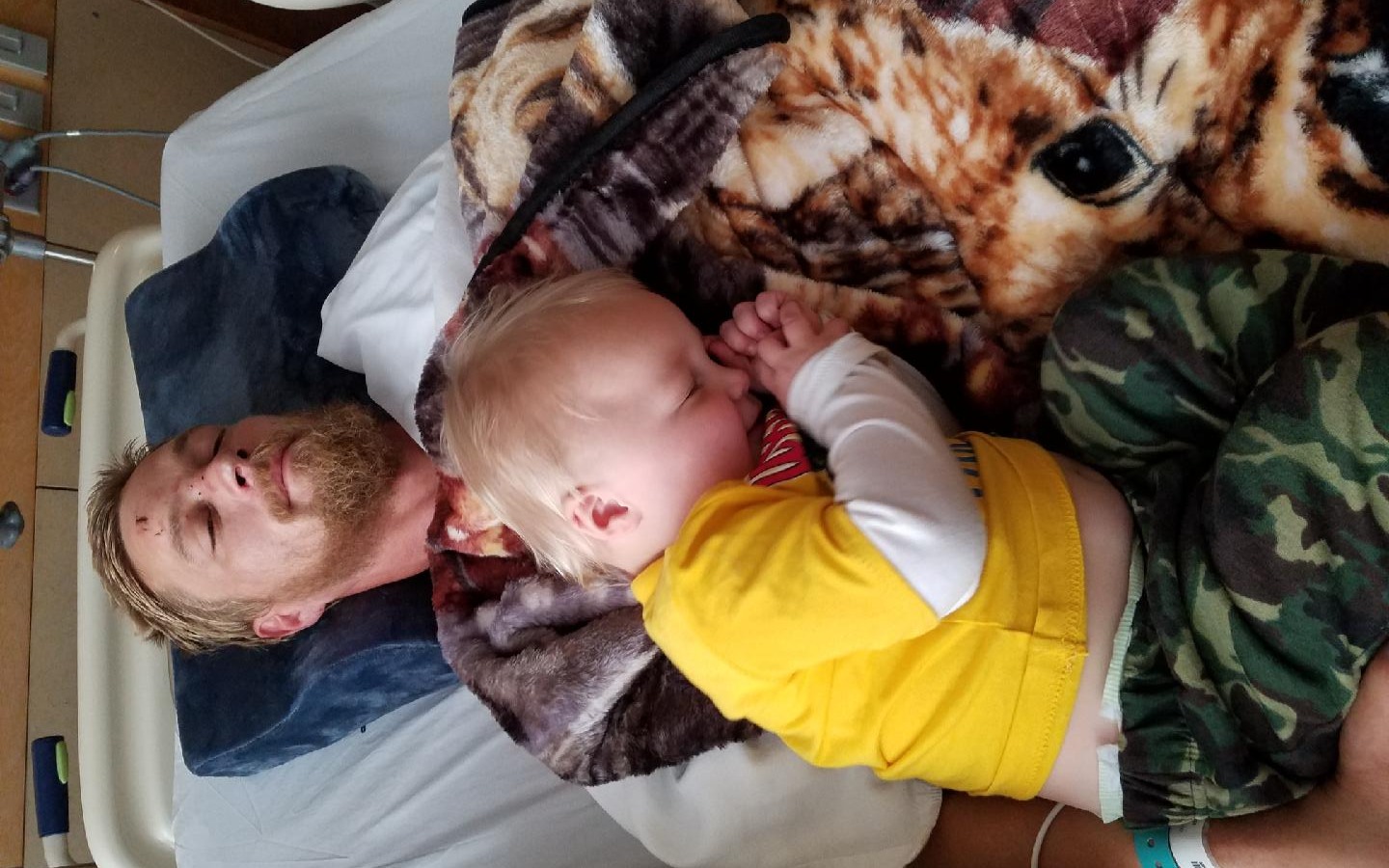 Deagen looks like he is praying for his Dad. Warms my heart!